FOR SALE: aft salon fixed window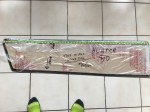 Placed by kenny on 10-28-2021
Views: 404
Location: plainview, ny US
Phone:
50.75 along top,48.25 along the bottom,13in aft edge,11in on the forward edge. bought from hunter for $475 .I did not use it, brand new will sell for $300 plus ship.
Condition: brand new
Price: $300
Sorry, to respond to ads you must be logged in to an account in good standing.