FOR SALE: Furler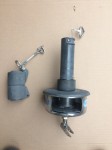 Placed by Afrakes on 04-19-2019
Views: 198
Location: PORT KENT, NY US
Phone:
North Sails (private labelled early Harken) furler, included are drum with pre-feeder attached, upper swivel and 35ft. 9in. of double groove foil. Suitable for a 37ft. 9in. x 1/4in. or shorter headstay. I disassembled the drum and swivel, cleaned and lubricated the bearings. Drum does have a length adjuster screw. Used on a northeast, fresh water boat so it didnt see a lot of heavy use. Condition very good. $250.00 OBO plus shipping.
Condition: Very Good
Price: $250.00
Sorry, to respond to ads you must be logged in to an account in good standing.