WANTED: WTB -Sherwood G908 Raw Water Pump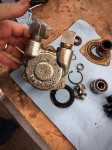 Placed by Ray Taylor on 02-07-2019
Views: 64
Location: White Salmon , Wa US
Phone: (562) 754 1348
Im looking for a Sherwood G908 raw water pump to be used as a backup on my Universal M320. Ill replace the internals and reface the pump housing so condition is not important. The shaft and housing are the only parts that Ill re-use.
Condition: Used- Well Used- Wor
Sorry, to respond to ads you must be logged in to an account in good standing.