FOR SALE: Winter 35' Sailboat Boom-Tent "Fairclough" Cover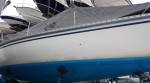 Placed by JBrown1988Hunter355 on 12-14-2018
Views: 503
Location: Stamford, CT US
Phone: 203-325-1281
For Sale: Snow and water-proof, acrylic-coated polyester "Boom-Tent Cover" for 35' Hunter Or Other Sailboat.
Safeguarding your boat investment: Whether your boat is stored in or out of the water, no other cover shields it so effectively from ice and snow, sea salt, and the effects of pollution. Fairclough boat covers prevent costly repairs due to fading gelcoat or damaged brightwork, while adding years of life and enjoyment. The only requirement for the Boom-Tent to work, you must leave your mast and boom in place and have either a perforated toe rail or stanchion base to tie to.
Benefits and value of "Fairclough" Winter Boom-Tent Covers:
• Quick and easy installation and removal
• All Stitching Professionally Repaired and Reinforced October 2018
• No frame needed: Aft supported by boom and Forward by mast-to-bow line.
• Zippered port and starboard doors and aft seam, for easy access
• Not prone to tearing or blowing off; it ties to perimeter toe-rail
• Designed to fit to and accommodate rigging
• Construction: TOP GUN® multi-ply acrylic-coated 100% woven polyester
• Made to last for years and years
• Made for 35' Hunter 355 Legend or sailboat with approx. 12'-3" "J" Mast to Forestay and approx. 14'-4" "E" Boom Lengths
Prolong the life of boom tent cover by removing snow loads; not leaving your boat cover on over the summer and storing the cover in a dry place.
TOP GUN® material is a multi-ply acrylic-coated 100% woven polyester fabric that is characterized by its' excellent strength. It is highly water resistant and it provides unrivaled durability, tear and abrasion resistance, dimensional stability, UV and mildew resistance. The specially formulated coating will not crack or peel in the widest range of heat or cold.
Condition: Good
Price: $1,600
Sorry, to respond to ads you must be logged in to an account in good standing.