FOR SALE: ST-50 / Early ST-60 Wind Transducer Bearing and O-ring Kit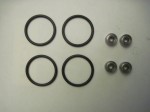 Placed by Rich Stidger on 06-04-2018
Views: 287
Location: Pittsfield, MA US
Phone: 4134432858
After rebuilding three of these masthead wind transducers for myself and friends, I have left-over two complete sets of bearings and O-rings that can be used to rebuild two masthead units. I have posted on SBO detailed instructions on the rebuild procedure and listed sources for these parts. However it may be easier for someone to buy these parts as a kit from me rather than chase parts.
Each kit contains 4 bearings and 4 O-rings.
Condition: New
Price: $40 ppd.
Sorry, to respond to ads you must be logged in to an account in good standing.