FOR SALE: Balmar series 6 80a alternator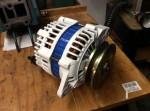 Placed by Mark Maulden on 10-11-2017
Views: 929
Location: Burlington, Wa US
Phone:
three yrs old and has always been derated via belt mgr. Two pulleys included as I had to slow it down with a larger pulley. This alternator REQUIRES an external regulator. Mount is a single 2 foot.
Condition: Excellent
Price: 350.00
Sorry, to respond to ads you must be logged in to an account in good standing.