FOR SALE: Spinnaker pole 159 3 1/2 inch diameter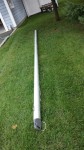 Placed by FS3873 on 09-22-2017
Views: 1375
Location: Sayville, NY US
Phone: 631 848-9140
3 1/2 inch diameter, and 15 feet 9 inches long.
Spinnaker pole has internal trip lines and is in excellent condition. Purchased with boat when new and almost never used. Stored in garage for years.
Can be cut to make a shorter pole.
$500 or best offer
Condition: excellent
Price: 11782
Sorry, to respond to ads you must be logged in to an account in good standing.