FOR SALE: RL-2 Personal Rescue (Strobe) Light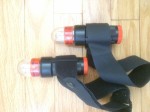 Placed by morgantheship on 04-12-2017
Views: 1198
Location: Adell (Port Washington), WI US
Phone:
RL-2 Personal Rescue (Strobe) Light
Forespar's personal strobe flasher rescue light. Meets USCG 161.012 and SOLAS. Powered by an alkaline "C" battery. Waterproof to 120 feet. Velcro strap for attachment to upper arm or safety harness. Flashes for over 24 hours at temperatures above freezing.
Excellent condition.
I have a quantity of 2 RL-2 Personal Rescue Lights.
Original price $67.00
Selling price $30.00 each
Shipping $8.00 via USPS Priority Mail
Condition: Like New - Excellent
Price: 30.00
Sorry, to respond to ads you must be logged in to an account in good standing.