FOR SALE: Digital Votmeter - IP67 Rated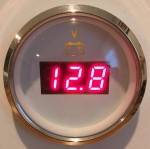 Placed by Maine Sail on 03-21-2018
Views: 1780
Location: Cumberland , ME US
Phone:
I wound up with a bunch of these digital volt meters left over from a big project.
They fit a standard 2 1/8 marine engine gauge hole. They can be installed in an engine panel or down below.
With a three way switch ON-OFF-ON it can be used to monitor two banks for voltage. Back-lighting is your choice of red, white or none. LED numbers are red.
This is a great volt meter to replace your sloppy analog engine panel meter and waterproof too...
Features:
IP67 waterproof integrity
Hole Dimension: 2 1/8
Voltage Range: 8-32V
Excellent anti-fogging resistance
Curved glass and 316 stainless steel bezel
Email me for a PayPal order link.
compassmarineservices AT gmail DOT com
Condition: Brand New in Box
Price: $34.00
Sorry, to respond to ads you must be logged in to an account in good standing.