FOR SALE: furler with sail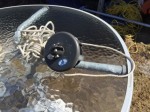 Placed by fred1diver on 06-07-2016
Views: 2310
Location: gatineau, Qc ca
Phone: 819 921-0488
I have a sail on a harken rolling furler with the furler for a 20-25ft sailboat, in great shape, Im just not using it.
the lenght of the luff is 24ft, the leech is a bit over 24 and the foot is 139
complete system
jai une voile sur enrouleur avec lenrouleur harken pour un voilier entre 20-25pi, en très bon état, je ne men sert juste pas.
la hauteur est de 24pi, le bas de la voile est de 139 et le leech est de un peu plus de 24
systême complet
Condition: great shape
Price: 700
Sorry, to respond to ads you must be logged in to an account in good standing.