FOR SALE: Cockpit Folding Cushions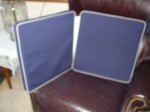 Placed by bigpapaporsche on 03-16-2016
Views: 1900
Location: Cincinnati, oh US
Phone: 5138915112
I have a set of Two Cockpit Folding Cushions, both in Captain Navy. They are about one year old and are in perfect condition. I am selling because our new boat has a Green Color Scheme and my wife wants green cushions not blue. The pair sell for $260.00 new, Ill sell for for $180.00, plus shipping.
Condition: 5138915112
Price: 45242
Sorry, to respond to ads you must be logged in to an account in good standing.