FOR SALE: DEI Marine 30A Galvanic Isolator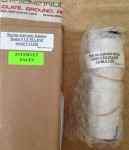 Placed by VF84Sluggo on 01-20-2016
Views: 1769
Location: Gulf Breeze, FL US
Phone:
Absolutely New-In-Box DEI Marine 30A Galvanic Isolator
http://www.deimarine.com/featured-products/30a-galvanic-isolator-fsp.html
Never even unwrapped, what you see in the picture is exactly what you get.
$300, free shipping to Lower 48. Will only ship to to US
Condition: New-In-Box
Price: 32563
Sorry, to respond to ads you must be logged in to an account in good standing.