FOR SALE: Quantum Sails Assymetrical Spinnaker for Beneteau 43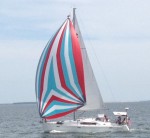 Placed by denise@sloopjohndee.com on 09-28-2015
Views: 2424
Location: Annapolis, MD US
Phone: 703-304-5556
Used an embarrassingly few number of times, purchased a larger boat, no longer needed. Beautiful all purpose A3 assymetrical spinnaker.
Principal dimensions:
Luff 16.7 meters (54.8)
Leech 14.613 meters (47.9)
Foot 8.5 meters (27.9)
Mid girth (8.11 meters) 26.6
Area is 107 sq. meters.
Includes ATN Sock, and square duffle storage bag. Original price $4190.94.
Condition: LIKE NEW
Price: $2700.00
Sorry, to respond to ads you must be logged in to an account in good standing.