FOR SALE: MRBF Battery Mount Fuse Holder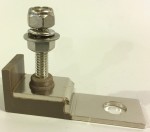 Placed by Maine Sail on 08-19-2015
Views: 1947
Location: Portland, ME USA
Phone:
Hi All,
I have a few of these Blue Sea MRBF Single fuse holders to sell. They come with the red cap, 1/4 flat washer, 1/4 lock washer and both a 1/4 X 20 standard nut and a Nyloc nut. Fuses are not included but can be purchased at any marine chandlery.
These fuse holders mount directly to a battery or a busbar. They can be installed vertically or even horizontally with my horizontal adapter. If you would like a horizontal adapter let me know they are $16.25 each and utilize stainless nuts and bolts.
MRBF Fuse Holder $14.75 plus $6.65 shipping to USA addresses.
Payments: PayPal only but I can accept credit cards through PayPal (without you having a PayPal account) and will send you an invoice to make the sale easy.
Condition: New
Price: $14.75
Sorry, to respond to ads you must be logged in to an account in good standing.