FOR SALE: Hunter P-42 Isomat Mast Step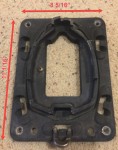 Placed by Sean5306 on 10-03-2018
Views: 181
Location: Seattle, WA US
Phone:
Mast step for an Isomat NG80 mast. This was original equipment on a 1990 Hunter P-42. There is a minor chip out of the top, forward, right edge that does not affect performance of the step. The mast is not included. However, a drawing of the mast section (Isomat NG80) this step fits is available. Dimensions of step are 8 5/16 wide by 11 1/16 long. Includes 1 SS bale shown in the position for the boom vang.
Condition: Good condition
Price: 25.00
Sorry, to respond to ads you must be logged in to an account in good standing.