FOR SALE: HUNTER 356 CANVAS WINTER COVER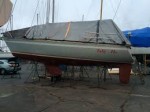 Placed by SHARYN on 09-25-2018
Views: 465
Location: PHILLIPSBURG, NJ UN
Phone: 908-210-4818
FULL WINTER COVER MADE BY CANVAS CREATIONS.VERY GOOD CONDITION, NO RIPS OR TEARS OR REPAIRS. ALL ZIPPERS FUNCTIONAL AND IN GOOD CONDITION. 2 PIECE SETUP. BOW TO MAST AND MAST TO STERN. BOAT MOVED TO FLORIDA SO NO LONGER NEEDED.
Condition: VERY GOOD
Price: $1200.00
Sorry, to respond to ads you must be logged in to an account in good standing.