FOR SALE: Motor Mount Lift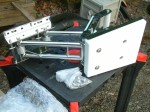 Placed by jssailem on 05-13-2018
Views: 579
Location: Salem, OR US
Phone: five03-3SIX2-4FOUR38
This is a Garhauer retractable OB-125 Outboard Motor Mount. Stainless with Starboard motor mount plate. Sold at Catalina Direct as Part #: Z2275 only this is the light weight model with 2 springs not 4 springs as in CDs description. Includes SS mounting bolts.
As priced plus shipping.
Condition: NEW in box
Price: $285
Sorry, to respond to ads you must be logged in to an account in good standing.