FOR SALE: Boat Plates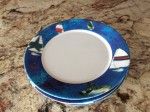 Placed by Sailgunner on 02-23-2018
Views: 651
Location: Punta Gorda, FL US
Phone: 9415050462
I have 8 The Galleyware Company Spinnaker 10 plates. Great condition. One plate has one non-skid button on the bottom missing. These are currently selling new for $7.95 each. All eight for $20 plus shipping.
Condition: Excellent
Price: $20.00
Sorry, to respond to ads you must be logged in to an account in good standing.