FOR SALE: Yanmar/Hitachi 80A Externally Regulated Alternator
Views: 1208
Location: Portland , ME US
Phone:
Hi All,
I have a customer cancelled (went to a 140A unit instead) CMI custom built Yanmar fit, externally regulated, 80A alternator for sale.
These alternators are the best value going in an externally regulated alternator to fit Yanmar engines. This is a direct fit to replace the Stock LR180-03C, and many other dual foot 3.15 Hitachi style alternators, only this one is already set up for external regulation.
Special features:
-Intended to fit to the Yanmar engines that use a 3.15 saddle mount alternator.
-80A cold rated, with good high idle performance. About 60A - 65A when hot. No small case alternator can deliver full output for long periods not even a Balmar)
-Machine wound stator of 14GA top quality magnet wire means better cooling and higher temperature tolerance.
-Precision machined rotor and slip rings for greater contact at all RPM.
-Tighter tolerance of stator/rotor gap for better performance. Even tighter than the very expensive Hitachi branded alternators..
-Rotor is precision balanced to .035 ounce inches. Industry norm is .050 - .090. This means smoother operation and less harmonics.
-Upgraded higher performance rectifier.
-Brushes are high copper content not run of the mill carbon brushes. This yields superior conductivity and longer brush life.
-Ready to accept an external regulator (I recommend only Balmar regulators).
-1/2 / 13mm single v-pulley (3/8 / 10mm available upon request).
-Billet machined pulley not cheap stamped steel.
-Isolated ground for steel or aluminum boats or for using a shunt in the negative path..
-Hand assembled in the USA (Note: some internal components are non US made but carefully chosen)
Sorry this unit has been sold. If youre interested in one just email.
Please email me: compassmarineservices AT gmail DOT com
Condition: SOLD
Price: $324.99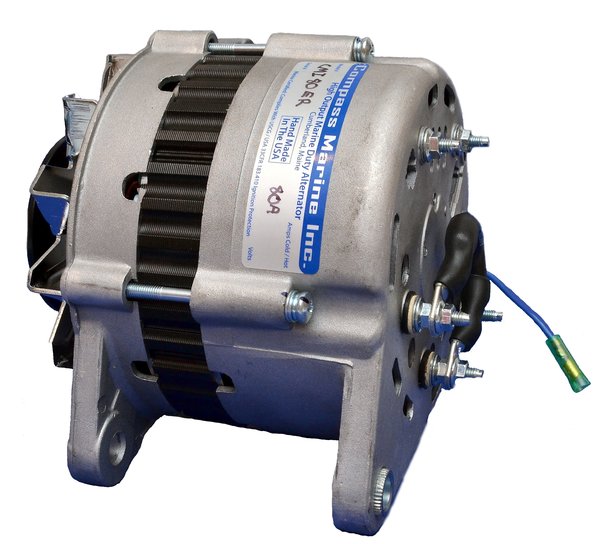 Sorry, to respond to ads you must be logged in to an account in good standing.