FOR SALE: Precision 23 110 Jib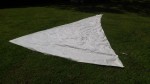 Placed by dman535 on 01-25-2018
Views: 1051
Location: Nashville, TN US
Phone:
This is a 110 Jib made by Esprit Sails for a Precision 23. Sail measures:
Foot: 9
Luff: 23.375
Leach: 21.1
Sail is in excellent condition. does not appear to have been used. Includes sail bag.
Asking $300 plus shipping
Price: 300
Sorry, to respond to ads you must be logged in to an account in good standing.