FOR SALE: Used M-18 Diesel Starter Motor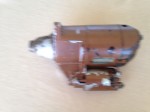 Placed by liberty214 on 07-31-2018
Views: 1029
Location: Punta Gorda, FL US
Phone: 941-286-4523
Back Up starter motor for a Universal M-18 Diesel. Retail Price for a new starter is ca $1,165 and a rebuilt is ca $495 from various sources. Price is $50.00 plus shipping.
Condition: Good Condition
Price: $50.00
Sorry, to respond to ads you must be logged in to an account in good standing.