FOR SALE: SOLD! Pair of Bronze 2 speed Barlow 28 Self Tailing Winches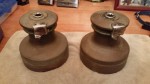 Placed by pateco on 11-18-2016
Views: 1985
Location: Coconut Creek, Fl US
Phone: 954-682-2151
Bronze 2 speed Self Tailing Barlow 28 Winches Just serviced. I got these winches for my boat, but they wont fit. they have 8 bases. They spin nicely, and the gears and bearings looked like new when I Serviced them last Wednesday. They would be a great winch upgrade for a classic sailboat,
Condition: Very Good
Price: $1,400
Sorry, to respond to ads you must be logged in to an account in good standing.