FOR SALE: REDUCED! New in package Sherwood Impeller Kits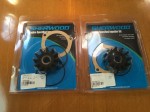 Placed by SailFysh on 09-14-2016
Views: 1626
Location: Huntsville, Al US
Phone: 2566797753
Part # SH09000K
Sherwood Impeller Kit
Bought these for spares but changed to Oberdorfer Pump last year. Paid $39.97 ea plus shipping.
I have 2 kits in unopened pkgs complete with o rings and gaskets. Will sell or trade. (There is always something I think I need).
Thanks,
Neal
Condition: New in pkg
Price: $19 each
Sorry, to respond to ads you must be logged in to an account in good standing.