FOR SALE: Aquasignal Anchor Light/Tri Color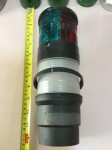 Placed by All U Get on 08-04-2016
Views: 1704
Location: Strafford, NH US
Phone: 603 817-3730
I have this lens only for an Aqua Signal 40 Anchor Light/Tri Color/Strobe light. The base (Quicfits) was lost overboard and the retaining ring is cracked but you can make use of the lens. The green lens has a slight crack which doesnt effect its performance. The sockets inside are still good for bulbs but the strobe bulb had been broken during a winter layover. It will fit any boat.
Condition: Used/parts only
Price: $30/trade
Sorry, to respond to ads you must be logged in to an account in good standing.