FOR SALE: Teak Doors - Beneteau 423 Companionway - Cruising Concepts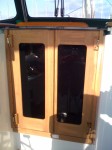 Placed by cpirao on 08-19-2016
Views: 1993
Location: Newark, NJ US
Phone:
We ordered a set of teak companion way doors with the inserts option - with screens, for our B423, but have since sold our boat. The doors are brand new - still in the box. Theyre not varnished.
They were custom made by Mike at Cruising Concepts and you can check them out at http://www.cruisingconcepts.com/Codoor.htm
They cost us $1,500, but will sell for $1,099
Condition: Brand new - in box s
Price: $1,099
Sorry, to respond to ads you must be logged in to an account in good standing.