FOR SALE: Wilcox-Crittenden Marine Head repair parts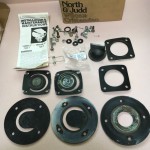 Placed by All U Get on 08-04-2016
Views: 1495
Location: Strafford, NH US
Phone: 603 817-3730
This is an assortment of parts for a Wilcox-Crittenden Marine Head. These repair parts are for Junior 51-Imperial 51 heads and have been used. It is rare to find these and I dont have a need for them. Feel free to ask any questions.
Condition: used/opened
Price: $100 or BO
Sorry, to respond to ads you must be logged in to an account in good standing.