FOR SALE: 150% UK RF headsail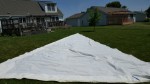 Placed by jibkid on 08-03-2016
Views: 1880
Location: Dayton, Oh US
Phone: 937-266-0888
UK 150% RF Genoa 5.90oz, Reefing patches and UV Sunshield
Sail was made by A Declerq of Dettroit Mi. I replace my sails about every 6 years. I bought this sail in October of 2000 and replaced it in December of 2006. Its been sitting in my attic and i just found it.
I can supply pictures., price includes shipping
I= 43 ft, J= 13.20, E=12 P=37
from my Catalina 30 trbs
Condition: good condition
Price: 485.00
Sorry, to respond to ads you must be logged in to an account in good standing.