FOR SALE: Profurl C290 roller furler *REDUCED*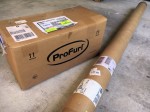 Placed by Gene Neill on 05-26-2016
Views: 2441
Location: Ocala, FL US
Phone: 352-262-2667
Brand new in unopened boxes. It came with a boat I bought, but Im a hank-on guy so I have no use for it. I have it on ebay for $950, but for SBO members the asking price is $850, and Ill ship it on my dime.
Condition: New in Box
Price: $850
Sorry, to respond to ads you must be logged in to an account in good standing.