FOR SALE: Used Gray Enterprise 512 and 414 Ports SOLD!!!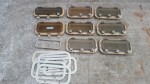 Placed by pateco on 04-22-2016
Views: 1715
Location: Coconut Creek, FL US
Phone: 954-682-2151
FOR SALE seven used Gray Enterprise 512 port lights, one 414 port light, Six 512 trim rings, one 414 trim ring, six 512 bug screen frames (need new screening). These are the factory ports from my 1983 Hunter 31. I have replaced with new ones. One of the 512s has a broken dog, and the 414 trim ring is cracked. These would make excellent spares/replacements for anyone with a Hunter of this vintage. They sell new for $133/each online. I want them to go to a good home. They are located in SE Florida, but I can ship. Make me an offer
Condition: Fair
Price: 200
Sorry, to respond to ads you must be logged in to an account in good standing.