FOR SALE: SOLD - Pro mariner 3 bank 50Amp battery charger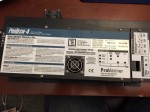 Placed by padozary on 03-24-2016
Views: 1760
Location: West Chester , PA US
Phone: 484 266 0186
Protech 4 1250 3 bank 50 Amp battery charger in working condition when removed from service. Reason for removal was an upgrade to an inverter/charger.
$200 plus shipping.
Condition: Used - Excellent
Price: $200
Sorry, to respond to ads you must be logged in to an account in good standing.