FOR SALE: Hanked on Jib sail bag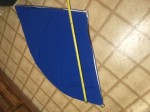 Placed by ebsail on 01-18-2016
Views: 2000
Location: New City, NY US
Phone: 845 323 3109
Allows hanked on jib to stay on, and be protected with sunbrella cover. Two 37 zippers allow you to leave jib hanked on in place. Cover with this bag, zip up and connect jib halyard to metal loop to hold jib off the deck. See Leesailcovers.com/heasail-bag/ for similar item. Will fit most jibs on boats 26 and under. Eliminates taking the jib on and off every time you use the boat.
Condition: very good
Price: $45.00
Sorry, to respond to ads you must be logged in to an account in good standing.