FOR SALE: Seafurl 810 roller furler modified to single line $100 b.o.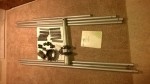 Placed by gfroch on 10-30-2015
Views: 2181
Location: Rochester, NY US
Phone: 5854155729
Hood Seafurl 810 HD modified to single line for reefing. All parts. Unit works and can be used whole or for parts. Includes book with install guide. Includes 41.5 extrusion. Sold AS IS for best (reasonable) offer.
Condition: 5854155729
Price: 14617
Sorry, to respond to ads you must be logged in to an account in good standing.