FOR SALE: Simpson-Lawrence Sprint 600 Windlass for Parts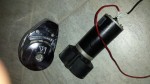 Placed by BStevenson on 10-06-2015
Views: 2066
Location: Tampa, FL US
Phone:
This is useful for rebuilding your Sprint 600 windlass. All of the above deck components are in very good condition. It has a 1/4 inch chain/rope gypsy. The motor works fine, but the two cluster gears were broken. Price includes USPS shipping in US.
Condition: Parts Only
Price: $70
Sorry, to respond to ads you must be logged in to an account in good standing.