FOR SALE: Catalina 28 Anchor locker door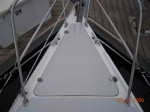 Placed by gfrazzle on 08-26-2015
Views: 1888
Location: Clovis, Ca US
Phone: 5592739173
Near mint 1997 Catalina anchor locker door. I bought another to mount a windlass so have this one that I no longer need. Great condition with gray nonskid. Price is plus shipping.
Condition: Excellent
Price: $100
Sorry, to respond to ads you must be logged in to an account in good standing.